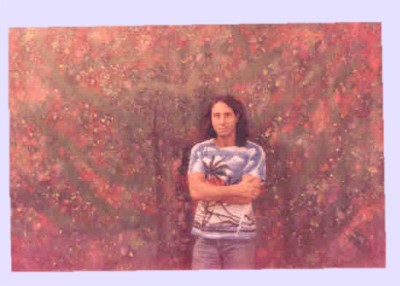 Examples of Work
(Click on thumbnails)



Future Planned Projects


include a series on "Judaism in the Works of Bob Dylan," "Caranaval and Macumba in Brazil," "Landscapes with Old Master Images," continuation of his series of "Chinese Landscapes in Oil," "The Poetic Image Frozen in Eternity: Objects in Clear Casting Resin," "Conceptual Art Revisited: A Retrospective of the Early Conceptual Works of Mark Jones," publishing several series of photographs including landscapes, "Broken Dreams: Images of Lost America," and other planned paintings and drawings.

Mark's primary field is visual arts. He was recognized early on for his artistic ability, and used to constantly draw, often during school classes!



In grade school, he won an art contest by rendering a greyhound in paper mosaic. He also wrote and illustrated a children's book, and later wrote and illustrated his own comic books. In high school, he took a summer course in painting at the Cleveland Institute of Art, and went on to major in art at college, beginning at the University of Miami, and earning a B.F.A. at Kent State University, and honors in a show juried by noted critic Gregory Battock. He followed that with a show of conceptual art, and a one-man show at Van Deusan Gallery in Kent. In the late 70's, after several shows in New York City, he was given a professorship at the Cooper School of Art in Cleveland, lecturing and teaching drawing. He also wrote scholarly articles on art, and was published in Art in America.



Mr. Jones has worked in a variety of painting media including, oil, acrylic, latex, watercolor, ink, mixed media, as well as sculpture, photography, and conceptual art. After a three year involvement in the mid-70's doing design work for a family restaurant/nightclub project, including logos, costume design, interior design, and murals, including a whole building exterior mural, he moved to New York and showed his work in the following venues:


1977 – 1996

Various Private Commissions


Group Show
Virginia Barrett Gallery
Chappaqua, NY



One Man Show
South Houston Gallery
Soho, NYC



Group Show
South Houston Gallery
Soho, NYC



One Man Show
Collaboration with the Constantina Petkova Dance Theater Group
Paintings
Rawspace Gallery
Soho, NYC



Group Show
M. Elson Gallery/Axis in Soho
Soho, NYC



Group Show
"Non-Objective Paintings" juried by Holland Cotter
Alnico Gallery
Soho, NYC



Group Show
The Cooper School of Art - Faculty show
Cleveland, OH



Group Show
National Art Center
Soho, NYC



One Man Show
"Graphic Conceptual Documentation: A Multimedia Retrospective
Exhibit and Collection of Subjectively Existential Process Art 1972-1980 Documented in Xerox."
W.I.P. (Works in Progress) Gallery
Dowling College
Oakdale, NY



One Man Show
"Inner Odyssey"
Spaces Gallery
Cleveland, OH



Group Show
Inuit Gallery
Cleveland Hts., OH



Group Show
New World Art Center
Soho, NYC



Design/Graphic Work
(strictly for companies owned by MJ)



Heaven, Inc - interior and exterior murals, advertising logos, artwork, copy, costume design of staff as angels and devils.



PlayLofts, Inc - brochures, catalogues, swingset and large commercial playground designs, logos, print advertising, copy, photography



Certified Inspections, Inc - brochures, catalogues, website, logos, print advertising, copy, photography



Certified Franchise Corp. - brochures, catalogues, logos, copy, photography



East-West Training - website, advertising graphics and copy, brochures, photography



Various real estate photo shoots and add designs and copy



Musical website, print advertising, cd covers, promotional material